What Is Esports and How Did it Become a $1 Billion Industry?
Making money from playing video games used to mean hosting small get-togethers in a friend's basement or heading to your local gaming lounge.
But even if you came out on top, the money wasn't quite substantial enough to maintain a professional career. However, times have changed, and more gamers are using their talents to create lucrative business opportunities.
Gaming influencers like Roosterteeth and PewDiePie amassed millions of subscribers through the use of YouTube. Live streamers like Ninja and Shroud grew global fanbases with the rise of Twitch. Professional gamers like KuroKy and Sumail have earned large sums of cash from winning tournaments.
The gaming industry is fueled by the development of great games, but also gamers willing to dedicate significant hours every day to hone their craft. The very best of these gamers compete in the world of Esports.
What is Esports?
Esports is short for electronic sports. It is a form of competition where professional gamers square off either in teams or individually. Competitions take place in a multiplayer setting, and there are typically cash prizes awarded at the end of tournaments.
There are varying types of Esports tournaments today, which include:
First-person shooter (FPS) events like Call of Duty, Apex Legends, and Halo.
Multiplayer online battle arena (MOBA) events like League of Legends and Dota 2.
Fighter game events like Mortal Kombat and Super Smash Bros.
Sports game events like Madden and NBA2K.
Other events like card games and real-time strategies.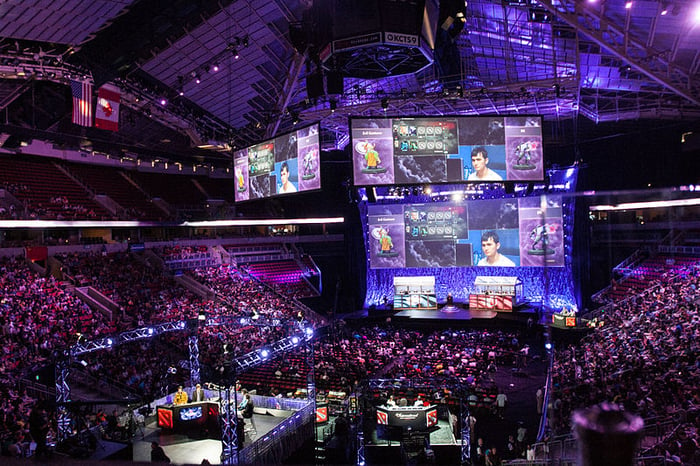 Now that you know what Esports are, it's time to look at how it rose to such popularity.
History of Esports
Esports traces its origins back to 1972, when a Space Invaders Championship yielded 10,000 participants. Fast forward to 1998, and the legendary Starcraft 2tournament on PC boasted more than 50 million online viewers, 17 million of those coming from Twitch.
As the 2000s rolled around, Esports gained serious momentum. Tournament hosts such as the World Cyber Games and the Electronic Sports World Cup debuted, followed by the launch of Major League Gaming (MLG) in 2002. MLG is considered one of the world's most prominent hosts in Esports today.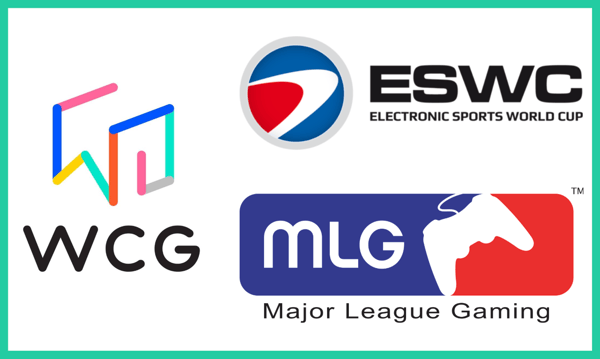 Now, there's more money in Esports than ever before. Prize pools for both the 2019 Dota 2 International and the 2019 Fornite World Cup surpassed $30 million.
As a matter of fact, Epic Games – the creator of Unreal Engine powering titles like Gears of War and Infinity Blade – earmarked an unprecedented $100 million for the 2019 Fortnite World Cup.
Professional Fortnite gamer Kyle "Bugha" Giersdorf, only 16-years-old, won $3 million at the most recent tournament, making it the largest cash grab by a solo player in the history of Esports.
The rise of Esports, however, isn't some random phenomenon. Let's dive deeper to see why the market is exploding.
The Esports market explained
In 2019, the Esports market will have surpassed the $1 billion mark. Nearly half of that revenue comes from sponsors like Mountain Dew, Red Bull, T-Mobile, Audi, and other big-name brands.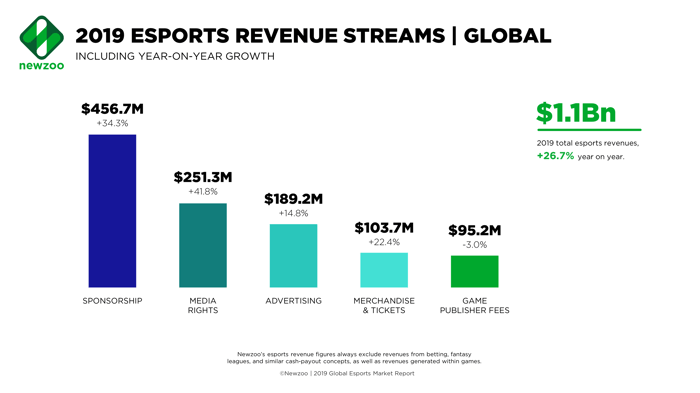 After sponsorship comes media rights and advertising. This sector has seen drastic growth due to the target audience of Esports being untethered to traditional media. For example, live streaming software is a popular method of broadcasting Esports events. As a matter of fact, gamers ages 18-25 spend 77 percent more time watching other people playing online than watching broadcast sports.
Merchandising, ticket sales, and game publisher fees round out the total Esports revenue.
Breaking down the Esports audience
The world of Esports wouldn't achieve such popularity without its hyper-dedicated audience. There are roughly 450 million total viewers of Esports today, however, that number is expected to surge over the next few years.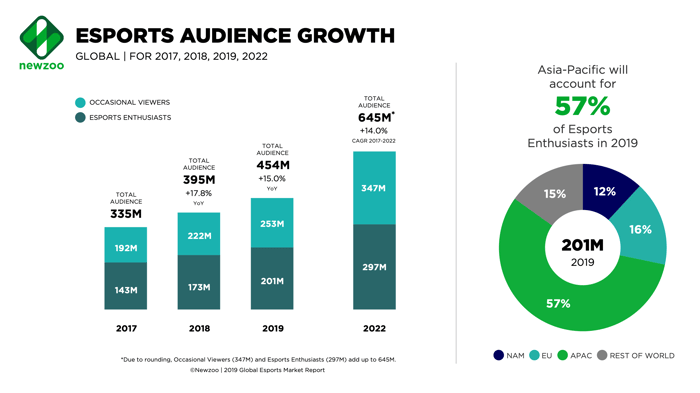 An astonishing 57 percent of Esports enthusiasts come from the Asia-Pacific region. For some, this isn't surprising, as APAC has always had a large presence in the gaming industry.
Esports has a traditionally male-heavy viewership, but things have changed. Women make up more than 30 percent of today's audience – up 6.5 percent from 2016.
With the rise of Esports comes an inspired generation of gamers, and some unique opportunities for publishers and game developers. The latest research shows us that more than one-third of gamers worldwide would quit their jobs today if they could pursue a full-time career in professional gaming.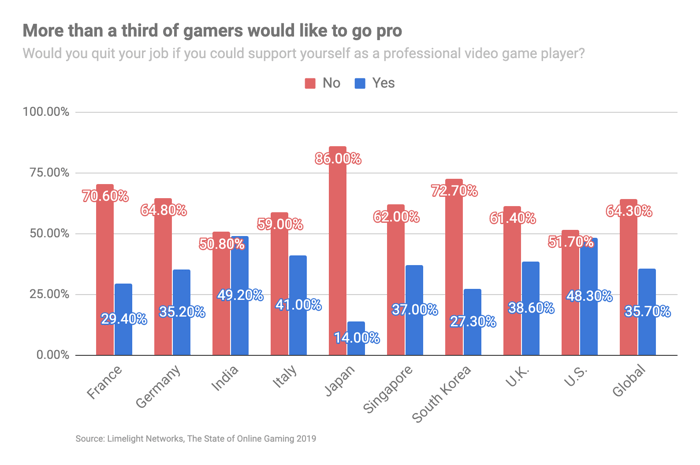 Although, becoming a professional gamer is easier said than done. Let's look at why careers in Esports are so elusive.
Competing in Esports
Just like professional athletes in soccer, football, basketball, and other major sports, finding success as a professional gamer is very difficult. One of the main reasons why it's so difficult is because the window of opportunity is very small for most gamers.
Former Starcraft professional Guillaume Patry, now in his mid-30s, insists he'd have no chance of competing on the professional stage due to his age.
"The young players are always the best players," he said. "It's very competitive and just being a few years older, it slows you down."
Patry is spot on with his comment. Most aspiring professionals begin their careers in their mid-teenage years and reach their peak in their early-to-mid-20s. Statista points out the average age of North American Esports playersranges from 24 to 27.
In addition to age, there's the time commitment for honing gaming skills. Remember Fortnite's 16-year-old phenom from earlier? He reportedly spends up to 10 hours per day every week practicing and studying the game. This type of commitment is common amongst Esports competitors.
Gamers utilizing data analytics and machine learning
In today's technologically-driven age, more professional teams are turning to data analytics and machine learning to maximize success in a short-lived Esports career.
Team Liquid, one of today's most prominent Dota 2 teams with about $30 million in tournament winnings, works with SAP and its predictive analytics software to understand which team composition yields the highest winning percentage.
More gaming companies are making gameplay data publicly accessible on their websites. This data will continue to help gamers everywhere understand their play-styles and what led to a win or loss with clearer understanding.
Wrapping up
The Esports market has surpassed the $1 billion mark, and it doesn't seem to be slowing down anytime soon. With younger generations inspired to pursue careers in gaming, you can expect the market to become more competitive.
Data analytics and machine learning are being used more in professional gaming, and will likely increase as tournaments become more lucrative. This opens up unique opportunities for software vendors looking for new industries.
By Devin Pickell